Control Center
The Control Center is your own communication and statistical hub. This is where you communicate with your project team, get in touch with your Social Trademark Consultant and manage all your online activities.
Set up your digital workflow to enable your team to delegate, control and approve.
Individuals
Use the Control Center to optimize and control your online presence and to get in touch with our Social Trademark network.
Corporates
Make the Control Center available to your team so it can manage and optimize your pages and social media activities.
Partners & Agencies
Market your own white-labeled Control Center in your network or utilize it within your websites and customer projects.
Dashboard Feed
The dashboard message stream allows you to communicate transparently with all project team members, to control and manage the content production as well as to give approval for publishing or other activities.
You can add external freelancers and agency partners you are working with to keep them aligned and to get their feedback during the progress of the project, too.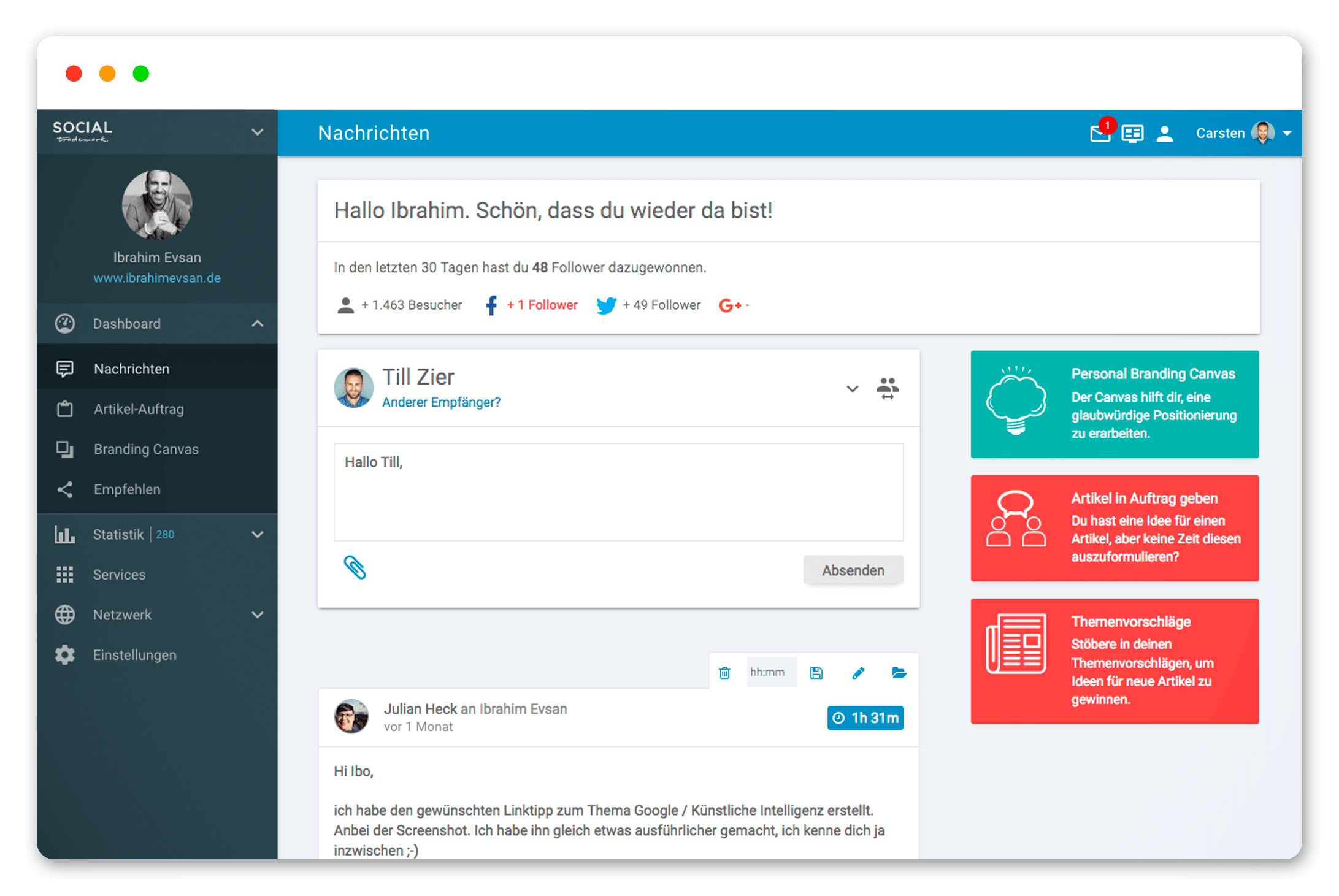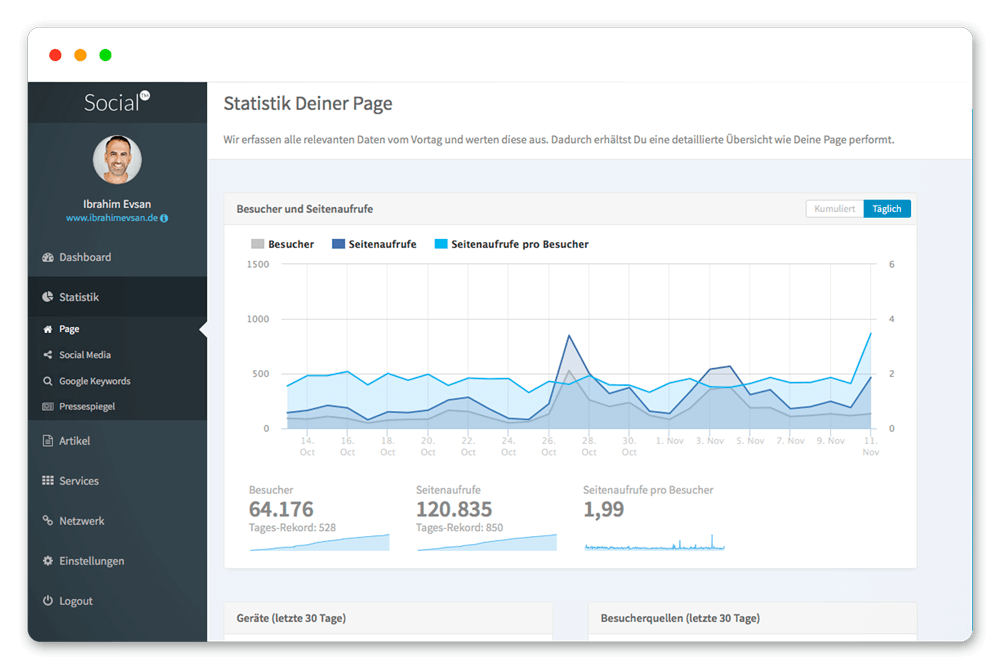 Website Analytics
Convince yourself of the reach and quality of results achieved by your website and your content:
How many visitors do you have?
Where do your visitors come from?
How long do they remain on your site?
Which of your articles are most popular?
How often has your content been shared?
Social Media Analytics
Our Social Media Statistics summariz your performance on Facebook, Twitter, LinkedIn, Instagram and YouTube:
How many people follow you on social networks?
How many followers have you gained since we've started working together?
How often were your entries read on Facebook and Twitter?
How often were your postings and tweets shared, liked and commented on?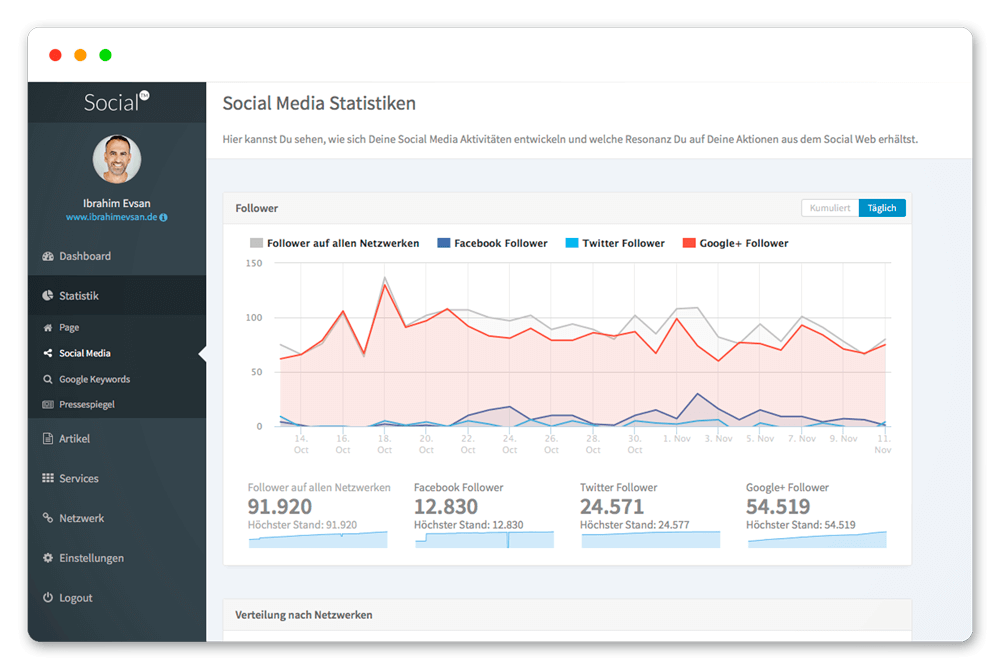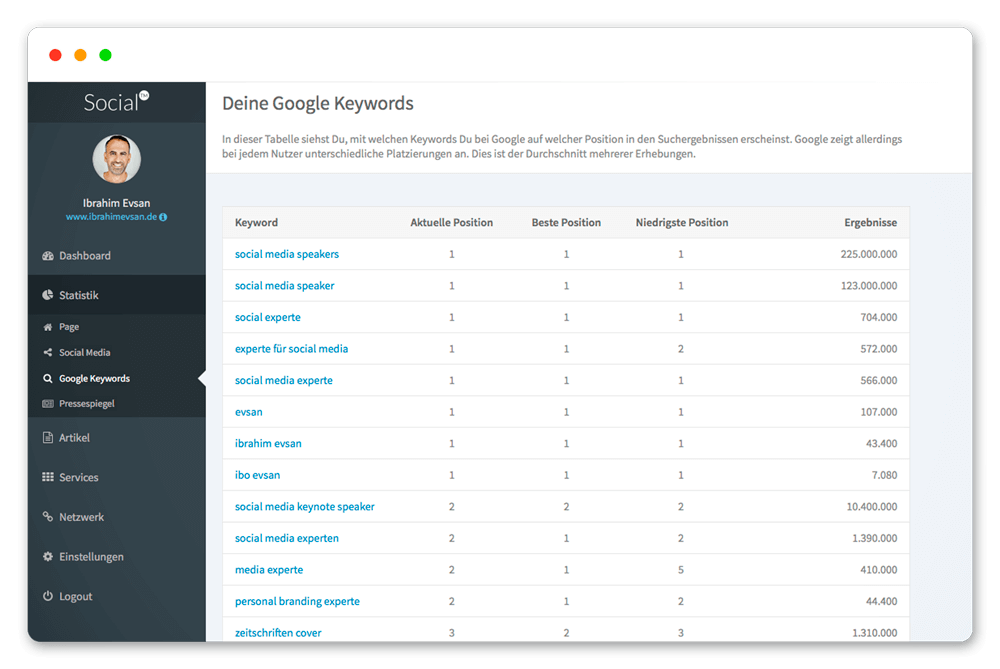 SEO Analytics
Stay up to date on your current positioning of Google's search entry results:
Which search terms are connected to you on Google?
How are your articles and individual pages placed?
How has your ranking changed in the past few days, weeks or months?
Press Review
Find out when your name and the for you relevant terms are mentioned on social networks, online or print media:
See which regional, national and international media are reporting about you and your topics.
Get information on the reach of the coverage of the respective publications.
Identify important personalities who are speaking about you.
Make contact with authors and add them to your mailing list.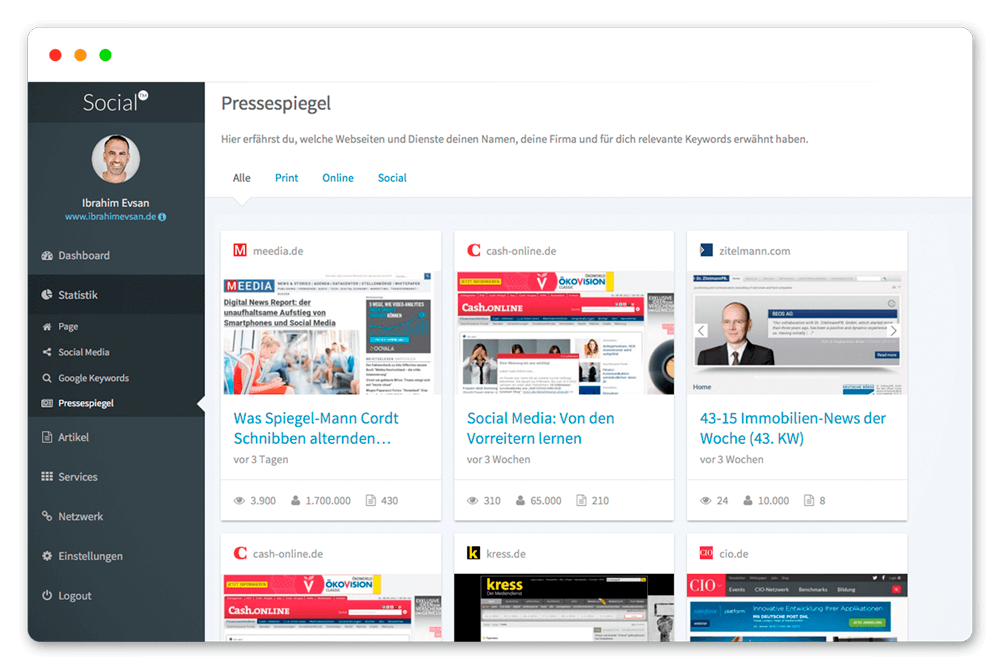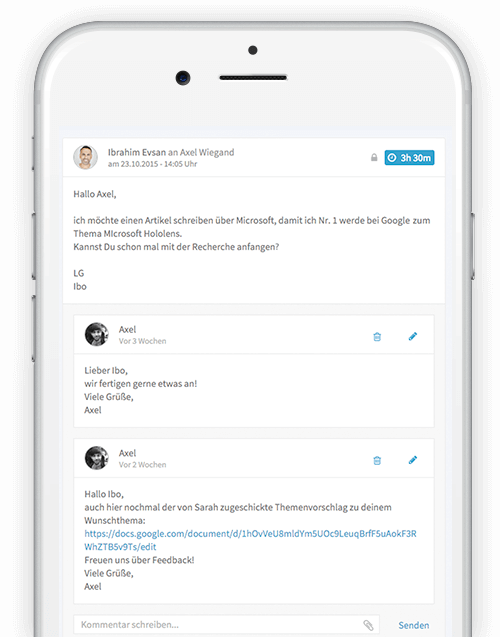 Simple and transparent communication
With the Control Center iOS and Android apps your team can join the conversation and give feedback at anytime and from anywhere. Push notifications will inform everybody involved about new messages so they always stay up-to-date.
Your Social Trademark Consultant is only one click away as well and will help you with any requests you might have.
Take advantage of our workshop series and navigate through the digital world with ease.
Let your management team become digital leaders and your company's ambassadors.
Be it a corporate blog, an expert page, a topic portal or a landing page – we will build the kind of websites you need to put your digital strategy into action. Our system is highly customizable, fully search engine and mobile optimized and is continually improved and adapted to the needs of our customers and state-of-the-art technologies.
Discover the notable personalities whom we have assisted on their journey of becoming a Social Trademark.